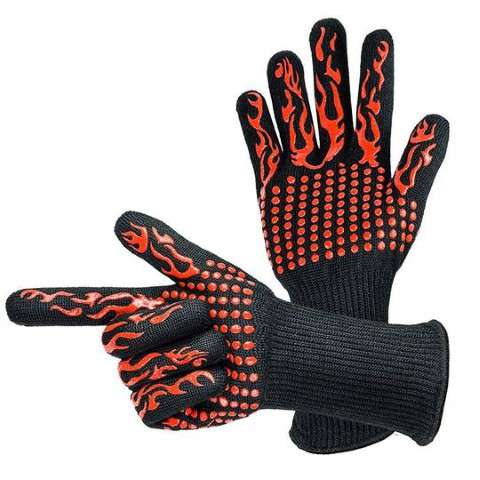 Protective Fireproof Gloves
In Store: Lubbock, TX
00

m

:00

s
Add To Cart
Description
There are a lot of gloves out there that claim to be fireproof, but when exposed to a hot situation, they prove unworthy. That is the difference between our fireproof gloves and the rest.
Made for best performance
These gloves come in a silicon design that offers a super tight grip on the outside. The inside consists of soft cotton that keeps your hands protected and cozy at all times while the middle comprises a fire-resistant fabric where all the magic happens. The cotton and silicon layers sandwich an Aramid material that is particularly great for heat resistance.
Thanks to these materials, washing these gloves is a breeze. Just toss them inside your washing machine, hang them on the line to dry, and you are good to go.
Features
Versatile use – ideal for both home and commercial use
Easy to clean- machine washable hence easy to clean. Hang to dry after wash
High-quality build – made of durable, non-toxic, non-slip silicon, and Aramid fiber that is effective at resisting high temperatures. The inside is made of soft cotton to keep your hands as comfortable as possible
Long wristbands and high breathability – Mitts with extra-long wrists that protect your hands, wrists, forearms. The inner lining is a breathable material that allows maximum circulation to keep your hands dry in high temperatures.

Handle scorching items with confidence
The fireproof mittens come with one of the highest heat resistant ratings in the market today. Flames cannot melt them, and they are long enough to protect your wrists from burns. You will be fully protected, whether you are baking, grilling, setting up a fire, or just handling hot stuff in general.
These kitchen mitts come with fingers; hence you will enjoy a comfortable fit. You will not have to keep taking your mittens on and off as you are preparing those delicious meals.