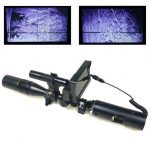 NiteVision Hunting Night Vision Riflescope 30% OFF
In Store:
Lubbock, TX
00

m

:00

s
Add To Cart
Was the product too expensive for you?

Get it with 30% OFF (One Time Offer)

Get Yours Quickly

Description
Customer Reviews (3)
Description

The naked human eye, sadly, is not fit for seeing at night. However, this does not spell doom for hunters who love to pursue their target even after the sun has set.
Main features
Sharp and crisp 5.3″ LCD screen
Fits nicely around most rifles
Easy setup
Clear vision upto 200yds
Switch from day mode to night (exclusive feature)
Thanks to technological advancements, there are now night viewing scopes that come with assorted types of illuminators such as the NiteX night vision riflescope.
These equipment are capable of beaming light that our eyes cannot perceive naturally into the environment, such as infrared. As a result, these sophisticated scopes collect light and project an image that we can see. The images often have a green glow or come in black and white.
Day and Night mode feature (exclusive!)

Do you want more success in your coyote, deer or hog hunting, especially after the sun has gone down?
The telescopic zoom infrared illuminator fitted in this system helps you to easily spot your targets as well as execute excellent shots that your naked eye could have much trouble with.
This digital dark sight scope takes twilight hunting to a whole new level by offering exceptional nighttime range and a vivid look at the target.
In darkness, hunters will enjoy exceptional accuracy when targeting quarry for up to 200-yards while using the infrared illuminator.
Enjoy more stealth with the infrared light
The scope illuminates your area of vision using high-intensity infrared light. Infrared is a wavelength of light not visible to naked eyes. Therefore, you can approach your target with more stealth in the dark without spooking them.

Moreover, with a 200-yard range, you do not have to get too close to your prey to make that perfect shot.
HD screen offers ease of use and precision
Get inspired with the 5.3-inch in-built HD display that makes hunting in the dark a walk in the park. You can adjust the brightness and contrast of the screen to suit your needs.
The crosshairs on the screen further give you pinpoint accuracy on your target. The high definition resolution makes hunting much more pleasurable, whether in the dark or in daylight.


Customer Review #1
Customer Review #2
Assembly under 20 minutes
The NiteX view lens can be assembled easily on a rifle scope in less than 20 minutes. You do not need to be a tech guru to assemble the system. It is straightforward and simple. Chances are that you will not even need the detailed instructions manual that comes with this handy tool.
Choose between day and dusk mode

The gunsight offers multiple viewing modes with quick switch toggles. You can easily shift between the colorful and detailed HD visualization during the day and night sight during twilight or in poorly lit areas, such as inside caves. You will be able to spot targets even in complete darkness.
Quality that lasts
This riflescope is made using high-quality steel and polycarbonate material to guarantee long life and maximum reliability.
Package Contents:
1xNight-vision camera
1xEyepiece tube
1xNight-vision screen
1xNight-vision clamp
1xInfrared flashlight
*Important note: Due to shipping restrictions, this product does not ship with batteries. You can buy the battery (Model -18650) at your nearest convenient store.



FAQs
1) What kind of recoil can this device handle?
We recommend using it up to .30-06 caliber. Make sure it is mounted securely as per the instructions.
2) Will it fit on a 40mm scope?
It comes with camera mount tube that can fit scopes up to 45mm diameter.
3) How far can you see in total darkness?
You can see up to 300-400 yards with the infrared light on in total darkness.
4) My scope don't have objective lens. Will I still be able to get a clear picture? It's a 3-9-50 leupold scope.
The camera will see exactly what your eyes see's, so yes it will work.
5) Does it comes with instructions?
User manual and step-by-step installation video tutorial is sent via email for every order. If you did not receive the email, contact us and we'll help you out.
6) What batteries will I need and is it included?
Batteries and charger are included. We suggest you to get a extra pack of batteries as well to get more runtime while outdoors. It uses 3 x 18650 Type 3.7V Batteries.
7) Where is it shipped out from?
We have multiple warehouses across North America, Europe And Asia. Orders are shipped according to the destination and availability at our warehouses.
8) How long does it take to arrive?
Most orders are delivered within 7-14 business days with free shipping. You may also opt for expedited shipping at checkout for faster delivery.
9) Does it come with a guarantee/warranty?
Our Night Vision Scope IR Camera Setup comes with 30-day replacement guarantee for any hardware issues/defects. Contact us on email/phone for any problem with your order.
10) Can it be returned if i dont like it?
Please contact us within 7 days after delivery if you feel it's not a good fit for you. We'll help you send it back.
11) Is the flash light a regular torch light?
The flashlight is infrared and is not visible to the naked eyes. It is not a regular flashlight. You may only see a warm red glow to indicate that the light is on.