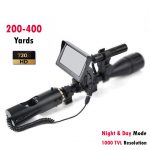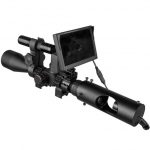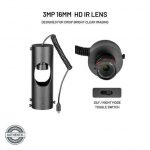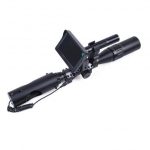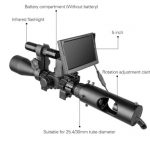 Survax 7933 Hunting Night Vision Scope
In Store:
Lubbock, TX
00

m

:00

s
Add To Cart
Description
Customer Reviews (24)
Description

Total Darkness High Performance Vision

Day and Night



200-400+ yards vision depending on scope and conditions



Fine image quality and resolution



Clear display screen



850nm long range IR illuminator



Weather resistant



Instant on, no warm-up required



Adapter fits any size scope up to 50mm eye piece
Video Image Sensor Specifications:
Capture Device: CMOS IR Board
CMOS : 1/3 1000 TVL resolution (television lines)
Capture board Lens: F1.2 CS IR Lens
Targeting Display Specifications:
Type: Digital TFT 4.3" LCD
Aspect Ratio: 4:3
System: NSTC / PAL
Contrast 350:1
Pixel: 480 (W) X 272 (H)
Operating Temp: -20c to 60c
Storage Temp: -40c to 80c
Environmental Humidity: 105 to 90%






PACKAGE CONTENTS:

1 x Camera with NV


1 x Eye Piece Tube


1 x NV Screen


2 x NV Clamps (25mm + 30mm)


1 x Infrared Light





FAQs
2) Will it fit on a 40mm scope?
It comes with camera mount tube that can fit scopes up to 45mm diameter.
3) How far can you see in total darkness?
You can see up to 200 yards with the IR on in total darkness.
4) My scope don't have objective lens. Will I still be able to get a clear picture? It's a 3-9-50 leupold scope.
The camera will see exactly what your eyes see's, so yes it will work.
5) Does it comes with instructions?
User manual and step-by-step installation video tutorial is sent via email for every order. If you did not receive the email, contact us and we'll help you out.
6) What batteries will I need?
Due to shipping restrictions, the product does not ship with batteries or charger. You can buy the battery/charger (Model – 18650) at your local stores.
7) Where is it shipped out from?
We have multiple warehouses across North America, Europe And Asia. Orders are shipped according to the destination and availability at our warehouses.
8) How long does it take to arrive?
Most orders are delivered within 4-7 business days with free shipping.
9) Does it come with a guarantee/warranty?
Our NV Scope IR Camera Setup comes with 30-day replacement guarantee for any hardware issues/defects. Contact us on email/phone for any problem with your order.
10) Can it be returned if i dont like it?
Please contact us within 7 days after delivery if you feel it's not a good fit for you. We'll help you send it back.
11) Is the flash light a regular torch light?
The flashlight is infrared and is not visible to the naked eyes. It is not a regular flashlight. You may only see a warm red glow to indicate that the light is on.
13) Can you record videos?
Yes it can records videos and take photos.